DJ Francesco is specialized in vintage world music.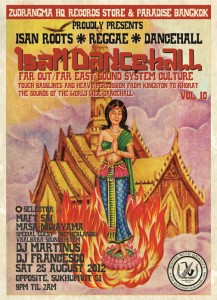 Not only 60s and 70s music from Africa, but also from Latin America, the Caribbean and Thailand. So expect styles like afrofunk, highlife, afrobeat, rumba congolaise, benga, ethiojazz, afrolatin and mbalax next to cumbia, chicha, salsa, beguine, compas, mholam, luk thung and many more.
Sets with only traditional and ethnic music (especially from Africa), or completely eclectic sets containing world music, alternative music and noise are possible too.
I have been playing at Isan Dance Hall (Bangkok), Vintage Voodoo, and venues like RASA, Tropenmuseum, de X, de Vrijplaats en Bar & Boos.
If you wish to get an idea, please check some (playlists) of my radio programs:
VRIJE RADICALEN (Free Radicals – eclectic)
MARIAMA (african)
or check the review page.